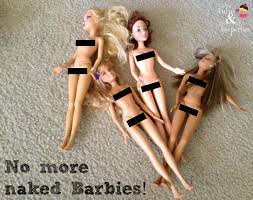 You can't make this stuff up. I recently received an email from a website for cosmetic gynecology. Yes. You read that right- cosmetic gynecology. It featured a video by a "urogynecologist" on his technique for performing a "Barbie labiaplasty". I have performed labiaplasties, but I confess I had never heard of this so, out of professional curiosity, I viewed the video.
The operation involved a complete amputation of the labia minora at the vaginal introitus (opening), along with removal of skin on either side of the clitoris and clitoral hood. The surgeon, who I will not name and, of course, practices in California, extols how nicely the surgery produces the "clamshell" look, which is the goal. His website lists his stellar credentials and features a gallery of before and after crotch shots showing the beautiful results of these surgeries.
The intent of the Barbie labiaplasty is to produce a look to the external female genitalia that matches that on the iconic Barbie doll by Mattel. Barbie, by the way, has never been crafted to be anatomically correct. If she were a real person, her measurements would be 39-18-33. She would be 5 foot 9 inches tall and weigh about 110 lbs. How's that for realistic? Check under the skirt and you will find…..nothing.