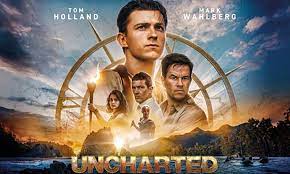 I recently watched Uncharted,the latest Netflix offering on cable. At least I tried. I really did. After two failed attempts to watch this steaming pile of cinematic crap, I gave up on the third, barely getting halfway through. And I've watched some real dogs from start to finish. How does it end? I don't know and, to quote the immortal words of Rhett Butler, "Frankly, Scarlett, I don't give a damn."  Life is too short.
The fact that this dog of an action film made over $400 million at the box office means either I am out of the loop- not necessarily unlikely- or the hunger for getting out to the movies after three years of Covid is such that we'll watch anything if it means getting out of the house and among people.
The script and screenplay for this pathetic excuse for a movie is borrowed, or should I say plagiarized, from a dozen or more movies of similar genre, all of them orders of magnitude better. If you want a globe trotting action movie in search of a mystical archaeological treasure, watch Raiders of the Lost Ark. Search for pirate treasure? Goonies. Conflicted buddy film? The Hitman's Bodyguard. The last is very funny with non-stop action and profanity (after all Samuel Jackson is in it so the M*F*s just seamlessly string together. Amazingly, Salma Hayek matches him expletive for expletive).  I can name a dozen buddy movies that have better chemistry. Think Billy Crystal and Gregory Hines in Running Scared. Heck, go watch Butch Cassidy and the Sundance Kid or The Sting again if you want to see how it is really done.
The writers must have been stoned, drunk, or just didn't give a sh*t when they wrote the completely incoherent plot. The different scenes seem disconnected. The big action moments and ridiculous CG cause you to cringe. There is a universe of difference between "That's amazing!" or "Wow!" and "That's insulting" or "That's just idiotic".
The woke factor is huge here. First there is the nod to immoral colonialism represented by Magellan's voyage. Then there is the unfettered capitalist greed of chasing all that gold. The villain is Antonio Banderas, a white guy with Latinx creds, who relies on his fading charm and accent (remember the sexy "Corrr-do-va" Chrysler commercials with Ricardo Montalban) to sleepwalk through his scenes. But wait! The real villain is a villainess, Tati Gabrielle, who plays an androgynous, sexually ambiguous, black, female whose hair is a skullcap of plastered down white ringlets and kicks ass, including – spoiler alert—slitting the throat of said Latinx villain. The real heroine seems to be Pakistani-American Sophia Ali. You go, girl.
I am embarrassed for Mark Wahlberg, who I truly like as an actor, Tom Holland, indeed, all the cast who seem, at every moment, to be saying, "I wish I was somewhere else." I hope the pay day was worth it.
I did not know until I wrote this that the movie is based on a board game. Yikes! I think I will go watch Jumanji again…………..
There are a million better ways to spend two hours.
R. T. Bosshardt, MD, FACS